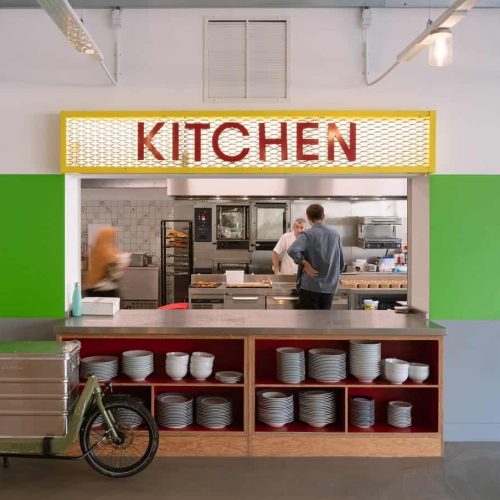 We offer a community meal Monday to Friday that everyone is invited to! It works just like your favourite café, except all food is offered on a 'donate as you dine' basis. We offer a delicious vegan and vegetarian menu, simply come along, order your favourite meal and donate to pay.
We pride ourselves on serving nutritious food, no matter your budget! We make good food from rescued produce and work with our seasons to drive for a more sustainable future.
Supported by our amazing work experience team and community volunteers.
Our meals are made fresh each morning using rescued produce, developed with our in-house nutritionists and team of chefs to bring you vibrant food full of flavour. Many of our authentic recipes are inspired from the traditional cuisines reflected in the cultures that surround the Hub.
Our kitchen serves an ever-changing selection of dishes but are likely to include seasonal soups and a hot meal, as well as a selection of cakes and biscuits to accompany your tea and coffee.
We offer a 'donate as you dine' scheme so there is always food available for everyone! Just ask our staff how it works on arrival.
We are inclusive and aim to cater for those on a Gluten Free, Vegan and Halal diet.
What is 'Rescued Produce'?
We're part of UKHarvest who operate a food rescue and redistribution operation. They rescue edible surplus food from organisations such as farms, supermarkets and wholesalers. Often the companies donate food because they simply have too much or it doesn't meet high cosmetic standards.
As our ingredients list is ever changing, so is our menu! The only way to tackle a pallet of custard powder, half a ton of strong flour and a wall of jams, is with a sense of humour and a heap of creativity. Out of chaos creativity will save us.
YOUR SUPPORT MAKES A DIFFERENCE
Eat, Donate or Volunteer! Your support helps the environment and local community.
Working with local charities and social enterprises we provide support in a variety of areas, from social development to food provision. The money spent in our café goes directly back to our projects, developing opportunities for our community to grow, cook, learn and share. You can also help us by volunteering or making an online donation.